Peanutbutter Kiss Cookies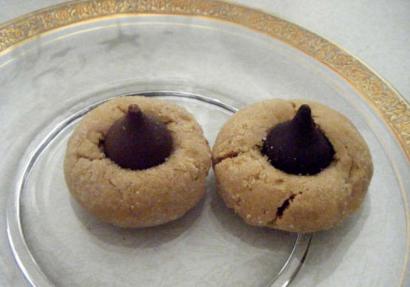 Ingredients
•1 1/2 cups flour
•1 tsp baking soda
•1/2 tsp salt
•1/2 cup butter or shortening
•3/4 cup creamy peanut butter
•1/3 cup sugar (plus 1/2 cup for rolling the cookies)
•1/3 cup light brown sugar
•1 ½ tsp egg replacer, mixed with 2 tbsp warm water
•2 tbsp milk
•1 tsp vanilla extract
•48 pieces of carob Kisses
Preparation
1.Heat oven to 375 F. degree.
2.In a medium bowl, whisk together the flour, baking soda and salt. Set the bowl aside.
3.In a large bowl, beat together butter and peanut butter until well blended. Add 1/3 cup of sugar and brown sugar. Beat until light and fluffy. Add the egg replacer mixture, milk and vanilla – beat well. Gradually beat the flour into the peanut butter mixture.
4.Shape the dough into 1-inch balls. Roll the balls in the remaining 1/2 cup of sugar.
5.Place the balls on an ungreased cookie sheet.
6.Bake 8 to 10 minutes or until lightly browned.
7.Remove from the oven and immediately press a carob kiss into the center of each cookie. The cookie will crack slightly around the edges.
8.Remove the cookie from the cookie sheet and place on a wire rack and allow to cool completely.
Serves
48 pieces
By Madhavi Devi Dasi