Pistachio Milk Fudge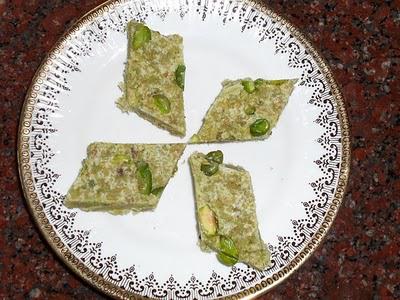 Plain milk marries well with chopped pistachios and rose water. The mixture can be left just marbled with nuts or tinted a pistachio green color. For a classic look, garnish with a piece of edible silver foil (varak) and slivered pistachios.
Preparation time (after assembling ingredients): 30 minutes
Ingredients
• Sugar – ½ cup (110 g)
• Water – 1 cup (240 ml)
• Ghee or unsalted butter – 3 tablespoons (45 ml)
• Powdered cardamom seeds – ¼ teaspoon (1 ml)
• Raw pistachio nuts, Blanched and finely chopped – ½ cup (75 g)
• Low-fat or whole milk powder – 1 2/3 cups (165 g)
• Rose water or a few drops rose essence – 1 teaspoon (5 ml)
• Green plus 1 drop yellow food coloring (optional) – 2 drops
• Edible silver foil (varak) for garnishing, if available – One 4-inch (10 cm) piece
• Blanched pistachios, slivered – 3 tablespoons (45 ml)

Preparation
1. Combine the sugar and water in a heavy-bottomed 3-quart/liter nonstick saucepan and place over moderately low heat. Stir until the sugar dissolves, then raise the heat and gently boil for 8 minutes. Remove the pan from the heat and allow the syrup to cool for 10 minutes or until it reaches 110 F (45 C).
2. Add 1 tablespoon (15 ml) ghee or butter and the cardamom seeds and pistachio nuts, and, stirring constantly, mix in the milk powder. When the mixture is smooth, place the pan over moderate heat and cook, stirring constantly and scraping the sides and bottom of the pan with a wooden spatula, for up 4 minutes. When the mixture is reduced to a thick paste that draws away from the sides of the pan, remove the pan from the heat, add the remaining 2 tablespoons (30 ml) ghee or butter and the rose water or essence and optional food coloring and stir until thoroughly incorporated.
3. Using a rubber spatula, scrape the sticky paste onto a buttered cookie sheet. Spread out and pat the hot mixture into a smooth-surfaced square about ¾ inch (2 cm) thick. When thoroughly cool, press the silver foil on the surface, cover with waxed paper and gently secure with a rolling pin. Cut with a hot knife into 24 squares and press slivered pistachios into each square. This quick fudge is best used within 4 days. Refrigerate in an airtight container. Bring to room temperature before serving.

Makes
24 pieces

By Yamuna Devi Dasi