Potato Kurma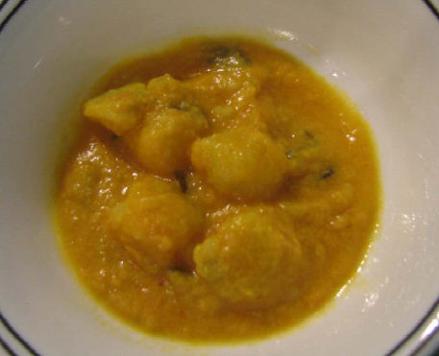 Ingredients
•4 medium sized potatoes
•3 medium sized tomatoes
•1 ½ -inch ginger
•1 dry red chili
•2 Tbsp oil
•4 whole cloves
•3-inch cinnamon stick
•½ Tsp yellow asafetida powder
•1 green chili chopped
•½ Tsp turmeric powder
•1¼ Tsp salt
•½ Tsp sugar
•10-12 fresh curry leaves
•3 Tbsp chopped fresh coriander leaves
•2 C coconut milk
•½ C water
Preparation
1.Boil the potatoes. Peel and cut into cubes.
2.Blend the tomatoes, ginger and dry red chili in a blender to a fine paste using a few teaspoons of water if needed.
3.Heat oil in a saucepan over moderate heat. Drop the cloves and cinnamon. Fry until brown and aromatic. Sprinkle asafetida and add green chili. Now add the blended tomato paste, turmeric, salt and sugar. Cook over low heat until the oil oozes out from the tomato spice paste.
4.Add the potatoes, curry leaves and coriander leaves. Mix well to coat the spices with the potatoes. Stir in the coconut milk, water and cook over low heat for 10-15 minutes. (you may adjust the quantity of water according to the desired consistency for the gravy) Serve hot.
** You may add some green peas too along with the potatoes in this recipe.
Serves
4-5
By Anand Lila Devi Dasi