Steamed Vegetables in a Coconut milk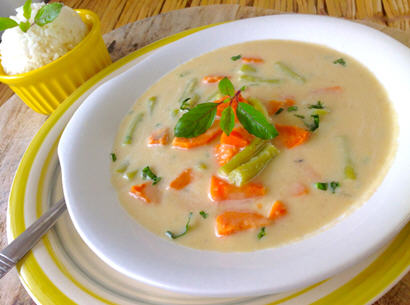 Ingredients
• 1/2 medium fresh coconut
• 2 cups hot water
• 2 cups cooked chickpeas
• 1 cup fresh coconut water or chickpea cooking water
• 3 tbsp coconut or sunflower oil
• 1. 1/2 tsp salt • 1 tsp fresh ground pepper • 2 tbsp chopped cilantro • 3 cups of choice vegetables (I used green bean, carrot and sweet potato)
Method
1) First take all the meat out of the half coconut shell and add to a blender. Also add 2 cups hot water to the blender and blend for about 30 seconds until the coconut is fully shredded.
2) Then pour the blended coconut onto a cheesecloth.
3) Then squeeze the coconut milk out and set aside.
4) Next, chop your selected vegetables and place in a steamer and cook until tender, about 10 minutes. I used about a cup of green beans, one carrot and one sweet potato.
5) Next in a large pot add the coconut or sunflower oil and cook on high for about 2 minutes until the raw oil smell is gone.
6) Then add the cooked chickpeas and pan fry for about a minute. Frying the chickpeas in the oil like this brings out a nice flavor in the soup. After frying the chickpeas add the coconut water or chickpea water, whichever one you are using.
7) Then add the coconut milk and immediately turn off the flame. Using a hand blender, blend the broth until nice and smooth.
8) Then add the salt, pepper and chopped cilantro. 9) When your vegetables are cooked you can then add them to your broth and that is it!
By Bhaktin Christina