Spicy Eggplant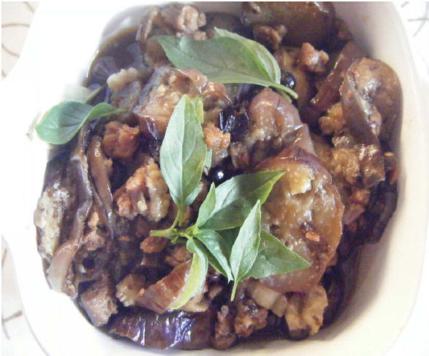 • ½ cup Thai basil leaves
• 2 Japanese eggplants (long/thin)
• ¼ cup small pieces of soy meat (TVP)
• 1 ½ tbsp fermented soybean (black soy bean)
• 2 tsp Chinese chili bean paste
• 2 tbsp soy sauce
• 1 tsp brown sugar, optional
• ¼ tsp salt
• 3 tbsp oil
• 1 tsp sesame oil, optional
Soak the soy meat pieces in bean paste, soy sauce, and about 1 ½ tbsp of water for at least 20 minutes.
Slice the eggplants thin.
Heat oil in the pan. First add fermented soybeans, and cook for 1 minute. Gradually, add the eggplant slices and cook for 4 to 5 minutes. Add the seasoned soy meat to eggplants and cook for another 3 minutes. If it gets dry, add 1 tbsp of oil or water. Cover and simmer for another 4 to 5 minutes. Sprinkle Thai basil leaves just before serving. If you like, you may sprinkle some sesame oil.
4 servings
By Madhavi Devi Dasi