Surnali (Sweet Sponge Dosa)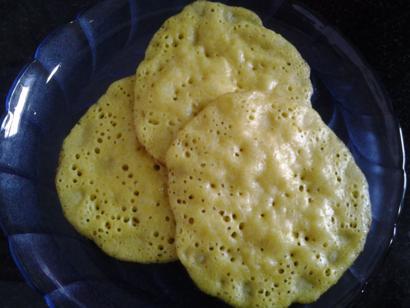 Ingredients
• Rice – 1 cup
• Grated coconut – 1/4 cup
• Beaten rice (poha) – 1 cup
• Turmeric – 1/4 tsp
• Fenugreek seeds (methi) – 1 tsp
• Curds – 1 cup
• Grated jaggery – 1/3 cup
• Salt – 1/4 tsp
• Baking soda – 1/2 tsp
Preparation
1. Soak rice n methi for 4 to 5 hours
2. Then grind all ingredients except soda to a smooth paste by adding water to a dosa consistency.
3. Ferment for 8 hrs
4. Heat a non stick pan.
5. Just before making pancakes add soda n mix well.
6. Smear ghee to pan.
7. Pour one ladle full of batter. Do not spread.
8. Cover n cook on a low flame till golden brown on one side only.
9. Serve hot with ghee on top
By Rekha Bhat