Quick and Easy Milk Fudge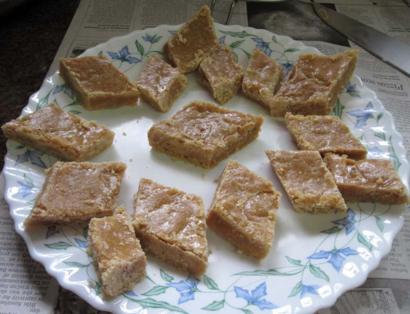 For centuries, Vedic cooks have been making milk fudge burfi from the same ingredients: milk reduced to pasty-dough, and unrefined sugars –either cane jaggery or palm gur, Burfi has changed very little since its beginnings, but with the twentieth century came powdered milk and shortcut procedures. Rather than boiling milk to reduce it to a paste, modern cooks can stir powdered milk into a flavored syrup and cook it very briefly until thick. The hot mixture is spread out, garnished, and when it sets, cut into decorative shapes. Plain milk fudge is receptive to additions; for this recipe, try adding 1/3 cup (50 g) of chopped toasted hazelnuts, pecans, walnuts, almonds, dried figs, dried apricots or dried mangoes.
This quick milk fudge can be made with several sweeteners, but each will yield a different result. Granulated white sugar allows the flavor from supporting ingredients to shine through and lends no color or flavor of its own. Liquid sweeteners such as rice, barely, malt and maple syrup vary in sweetening power and color, making the finished texture chewy instead of creamy.
Preparation time (after assembling ingredients): 30 minutes
Ingredients
• White or brown sugar – ½ cup (110 g) , water – Plus 1 cup (240 ml) , or liquid sweetener – ¾ cup (180 ml)
• Ghee or unsalted butter – 3 tablespoons (45 ml)
• Low-fat milk powder, or as necessary – 1 2/3 cups (165 g)
• Chopped nuts or dried fruits – 1/3 cup (50 g)
• Dried fruit pieces for garnishing

Preaparation
1. Combine the sugar and water, or liquid sweetener, in a heavy-bottomed 3-quart/liter nonstick saucepan and place over moderately low heat. Stir until the sugar dissolves, then raise the heat slightly and gently boil for 8 minutes. Remove the pan from the heat and let the syrup cool for 10 minutes or until the temperature reaches 110 F (45 C).
2. Add 1 tablespoon (15 ml) of ghee or butter and, stirring constantly, pour in the milk powder. When the mixture is smooth, place the pan over moderate heat and cook, constantly stirring and scraping the sides and bottom of the pan with a wooden spatula, for up to 4 minutes.
3. Using a rubber spatula, scrape the sticky paste onto a buttered cookie sheet. Spread out, pat and mold the hot mixture into a smooth square cake about ¾ inch (2 cm) thick. Depending on the finished shape of the fudge pieces, press nut halves or dried fruit piece into the surface at regular intervals. When the fudge is thoroughly cool, cut it into 24 pieces with a knife dipped into hot water and dried before each cut. This fudge is best used within 4 days. Keep refrigerated in an airtight container and bring to room temperature before serving.

Makes
24 pieces

By Yamuna Devi Dasi