Savoury Urad Dal Doughnuts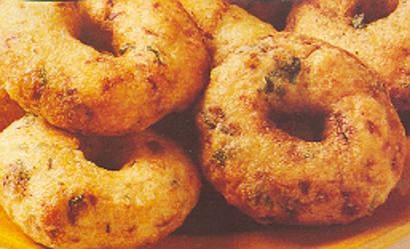 Ingredients:
• Split urad dal – 1 cup
• Yellow asafetida powder – 1 tsp
• Medium-sized green chilies – 4
• Salt – 1 tsp
• A scant ¼ tsp baking soda
• Finely chopped cabbage – ½ cup
• Finely-chopped leaves from one small bunch coriander
• Oil for deep-frying
Preparation:
1. Wash the dal well in repeated changes of water until the water is clear. Soak the dal in 3 cups cold water for 3 hours.
2. Drain the dal completely, and place it in a food processor with a metal blade. Add the asafetida, chilies and salt, and process into a thick batter. Transfer the batter to a bowl, add the cabbage and coriander leaves, and mix well.
3. Whisk the mixture for 1 or 2 minutes to put air into the batter.
4. Heat 2 or 3 inches of oil to 170 degrees C/340 degrees F in a deep pan or wok. When you are ready to fry, mix the baking soda into the batter. Divide the thick batter into 15 or 20 lumps on a large plate. Take a lump of batter and place it on the palm of your hand. Moisten your other hand with water, and press to flatten the batter into a round patty. Make a hole in the centre of the patty. It should resemble a small doughnut.
5. Slip the vadai into the hot oil. Repeat quickly, and fry the vadai in 2 or 3 batches, without crowding the pan. When they float to the surface, fry them, turning them to ensure even cooking, for about 4 or 5 minutes, or until they are reddish-brown and crisp. 6. Remove and drain them on paper towels, and serve hot with chutney of your choice, like the one that follows.
By Kurma