Sliced White Radishes with Golden Pumpkin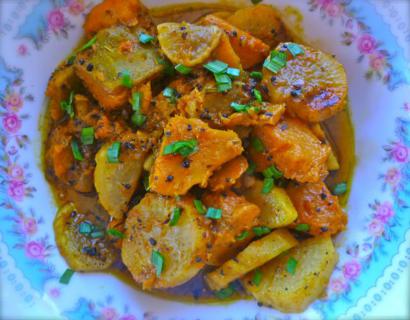 White cooking radishes (mooli) pleasantly contrast in color and taste with golden-red pumpkin, the flavor of radishes varies enormously, from the mild salad icicle type available in supermarkets to the slightly hot and punget mooli sold in ethnic markets. Use whatever type is easily available, including oriental daikon. When you fry fenugreek seeds in a seasoning, allow them to turn khaki-red but do not let them darken to deep brown, for at that stage flavor is excessively bitter. Quite amazingly, if you continue cooking the seeds until they blacken, they again lose their bitterness.
Preparation and cooking time: 30-40 minutes
Ingredients
• Ghee or corn oil – 4 table spoons (60 ml)
• Scraped, finely shredded or minced fresh ginger root – 1 teaspoon (5 ml)
• Cumin seeds – 1 teaspoon (5 ml)
• Black mustard seeds – ½ teaspoon (2 ml)
• Fenugreek seeds – Scant ½ teaspoon (2 ml)
• Curry leaves, preferably fresh – 8
• Yellow asafetida powder (hing) – ¼ teaspoon (1 ml)
• Sliced white radishes (about ¾ pound/340 g) – 2 cups (480 ml) ¼ -inch (6 mm) thick
• Peeled yellow pumpkin, Hubbard or butternut squash, peeled and cut into 1-inch (2.5 cm) cubes – 1 ½ pounds (685 g)
• Fresh peas or frozen baby peas, (defrosted under hot water and drained) – ½ cup (120 ml)
• Cayenne pepper or paprika – ¼ teaspoon (1 ml)
• Turmeric – 1 teaspoon (5 ml)
• Amchoor powder or 2 table spoons (30 ml) lemon juice – 2 teaspoon (2 ml)
• Salt – 1 teaspoon (5 ml)
• Coarsely chopped fresh coriander or minced parsley – 3 table spoons (45 ml)
Note: This amount applies only to yellow Cobra brand. Reduce any other asafetida by three-fourths.

Preparation
1. Heat the ghee or oil in a heavy-bottomed 5-quart/liter nonstick pan over moderately high heat until it is hot but not smoking. Add the ginger, cumin seeds, black mustard seeds and fenugreek seeds darken to a golden red. Drop in the curry leaves and asafetida, and in seconds add the radishes. Sautee until they begin to brown, then stir in the pumpkin or squash, fresh peas, cayenne or paprika, turmeric, ground coriander and water. Cover, reduce the heat to low and cook until the pumpkin is fork-tender (any where from 20 to 30 minutes.
2. A few minutes before serving, fold in the amchoor or lemon juice, salt, fresh herb and frozen peas.

Serves
5 or 6

By Yamuna Devi Dasi