Spicy Okra with Coconut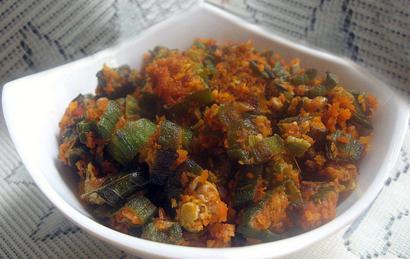 Here is another easy and delicious okra dish, Pan-fried with whole spices and grated coconut. As the okra browns lightly, the seasoned coconut forms a flavorsome crust. If you do not have fresh or frozen grated coconut on hand, substitute ground almonds equally delicious. Keep in mind that okra releases a glutinous sap when cut and sweats when salted, so dry it thoroughly and salt after cooking. You can serve this South Indian dish with practically anything.
Preparation time (after assembling ingredients): 15 minutes
Cooking time: 20-25 minutes
Ingredients
• Okra, preferably small (3-4 inches/7.5-10 cm long) – 1 pound (455 g)
• Ghee or sesame oil – 4 table spoons (60 ml)
• Black mustard seeds – 1 teaspoon (5 ml)
• Slightly crushed cumin seeds – 1 teaspoon (5 ml)
• Yellow asafetida powder (hing) – ¼ teaspoon (1 ml)
• Turmeric – ½ teaspoon (2 ml)
• Cayenne pepper or paprika – ¼ teaspoon (1 ml)
• Grated fresh coconut or frozen coconut (55 g), defrosted, or ½ cup (50 g) ground almonds – 1/3 cup (35g)
• Salt – 1 teaspoon (5 ml)
Note: This amount applies only to yellow Cobra brand. Reduce any other asafetida by three-fourths.
Preparation
1. Wash the okra and dry thoroughly on paper towels. (if it is a warm day, air-dry in the sun.) Trim off the tips and stems and slice into rounds ¼ inch (6 mm) thick.
2.
Heat the ghee or oil in a 10-12 inch (25-30 cm) nonstick frying pan over moderately high heat. When it is hot but not smoking, add the black mustard seeds and cumin seeds and fry until the mustard seeds turn gray and sputter and pop. Drop in the asafetida and immediately follow with the okra.
3. Spread the okra into a single layer and reduce the heat to moderate. Stir in the turmeric, cayenne or paprika and coconut or almonds and cook for about 20 minutes, stirring occasionally to brown the okra evenly. You may want to add sprinkles of water if the okra dries out too much.
4. When the okra is golden brown and crusty, remove the pan from the heat, add the salt and cover for 1 minute before serving.
Serves
4
By Yamuna Devi Dasi