Sweet Saffron Rice with Currants and Pistachios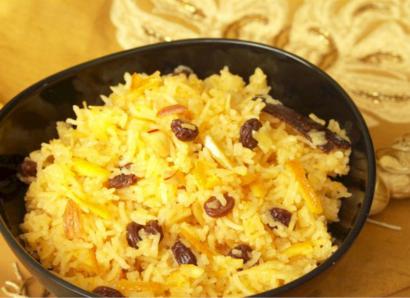 This relatively simple sweet rice is made regal by the color and flavor of saffron. The success of the dish depends on the delicate balance of flavors contributed by the rice, saffron and sweetener. Jaggery, light brown sugar, or maple sugar is the best sweetener for this dish. If you use maple syrup or honey, omit 2 table spoons (30 ml) of water. Basmati rice is highly recommended.
Preparation time (after assembling ingredients): 5 minutes
Cooking time: 25-30 minutes
Ingredients
• Basmati or other long-grain white rice – 1 cup (95 g)
• Water – 1 ¾ -2 cups (400-480 ml)
• High-quality saffron threads – 1/3 teaspoon (1.5 ml)
• Cinnamon stick – 1 ½ -inch (4 cm) piece
• Whole cloves – 6
• Salt – ¼ teaspoon (1 ml)
• Crumbled Jaggery, maple sugar or equivalent raw sugar, lightly packed – ½ cup (75 g)
• Cardamom seeds, coarsely crushed – 1 teaspoon (5 ml)
• Ghee or vegetable oil – 2 table spoons (30 ml)
• Silvered or sliced raw pistachios or almonds – 3 table spoons (45 ml)
• Raisins or currants – 3 table spoons (45 ml)
• Blanched raw pistachios, sliced into thin curls garnishing – 2 table spoons (30 ml)

Preparation
1. If basmati rice is used, clean, wash, soak and drain as explained on page 4.

2. Bring the water to a boil in a heavy 1 ½ -quart/liter nonstick saucepan. Place the saffron threads in a small bowl and add 2 ½ table spoons (37 ml) of the boiling water. Allow the threads to soak for 10-15 minutes while cooking the rice.

3. Stir the rice into the boiling water and add the cinnamon stick, cloves and salt. When the water resumes boiling, reduce the heat to very low, cover with a tight-fitting lid and gently simmer with out stirring for 20-25 minutes or until the rice is tender and fluffy and all of the water is absorbed. Remove from the heat and let the rice sit, covered, for 5 minutes to allow the fragile grains to firm up.

4. In the meantime, combine the saffron water, sweetener and cardamom seeds in a small saucepan. Place over moderate heat and stir until the sweetener is dissolved. Lower the heat slightly and simmer for about 1 minute. Pour the syrup into the rice and quickly re-cover.

5. Heat the ghee or oil in a small pan over moderately low heat until it is hot but not smoking. Fry the nuts and raisins until the nuts turn golden brown and the raisins swell. Pour the nuts, raisins and ghee or oil into the piping-hot rice and gently fluff with a fork to mix. Spoon onto a serving platter and sprinkle with the sliced pistachio nuts.

Serves
4 or 5

By Yamuna Devi Dasi