Urad Dal Vada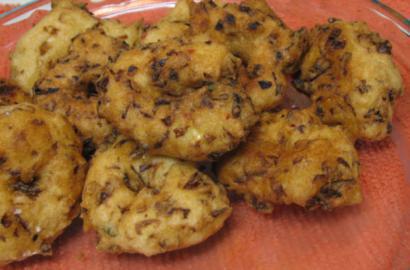 Ingredients
•1 C split urad dal
•1-inch ginger piece
•2 fresh green chilies
•1 sprig curry leaves
•½ Tsp crushed black pepper
•1 Tsp salt
•½ Tsp yellow asafetida powder
•¾ C cabbage chopped
•Oil for deep frying
Preparation
1. Wash and soak the dal in water for 4-5 hours. Drain.
2. Process the dal, ginger and chilies in a food processor to a thick batter. (As the dal is soaked well, so, while grinding you will not need water and if you add water, the mixture will turn runny and it will be difficult to shape them).
3. Transfer the batter to a bowl. Beat the batter with your hands to aerate it for 3 minutes. Now, add the remaining ingredients to it.
4. Heat oil in a deep frying pan. Divide the batter into 15-20 equal parts.Working with one portion at a time, take one portion and place it on the palm of your hand. Moisten the other hand with water and flatten the batter to form
into a round patty. Make a hole in the center.
5. Gently slip the patty into hot oil and deep fry until golden brown. Drain on paper towels. Repeat the same for other vadas. Serve hot with coconut chutney and sambar.
Yield
15-20 vadas
By Anand Lila Devi Dasi