Chocolate Chip (Carob Chip or White Chocolate Chip) Whole Wheat Cookies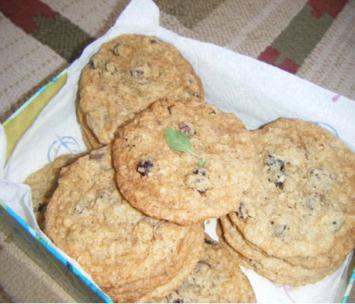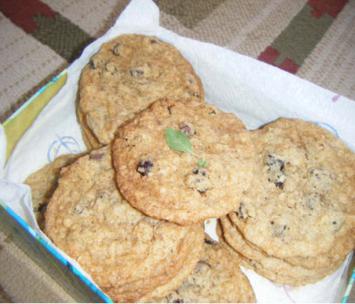 Ingredients
•1 cup (2 sticks) of butter (unsalted)
•¾ cup sugar*
•¾ cup brown sugar*
•3 tsp egg replaces mix with 4 tbsp warm water**
•1 tsp vanilla extract
•1 ¾ cup flour
•½ cup oats
•½ cup whole wheat flour***
•¼ cup wheat germs
•1 tbsp flax seeds (optional)
•1 tsp baking powder
•1 tsp baking soda
•1 cup raisins or cranberry
•½ cup walnuts
•2 cups chocolate chips (carob chips or white chocolate chips)
Preparation
1.Preheat the oven at 350 F.
2.Mix all dry ingredients in a small bowl. I prefer to eat whole wheat bread and cookies so I use whole wheat flour and wheat germs in my cooking. You may use just white flour*** or substitute with rye flour and they would turn out to be just as good as whole wheat cookies.
3.In a medium bowl, mix butter (softened), sugar* (if you like your cookies sweeter, add ¼ cup of sugar and ¼ cup of brown sugar), vanilla, egg replacer mix ** (you may use flax seeds with warm water).
4.Add the dry ingredients to the medium bowl. Mix well and add nuts, raisins, & carob chips.
5.Drop the dough on baking sheets and bake them for 8 to 10 minutes.
By Madhavi Devi Dasi