Melaga Pudi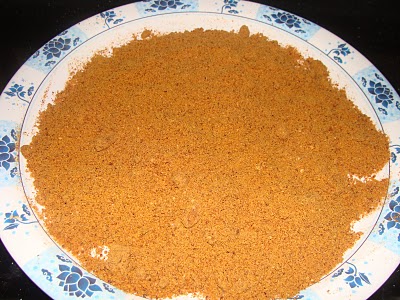 Ingredients
•Urad dal – 1 Cup.
•Red grams dal (tuver dal) – 1 cup.
•Red chili powder – 1 ½ cup.
•Salt – as required.
•Turmeric powder – 1 tsp.
Preparation
1. Roast all the dal separately in a little oil, till brown.
2. Grind them in grinding stone and mix red chili powder, salt and turmeric powder mix well and fill in the bottle.
3. It can be served with dosa, uttapam or idli
Note:  You can mix little oil in it while serving.
Serves
2 Persons.
Bhaktin Shanti