Naan from Wheat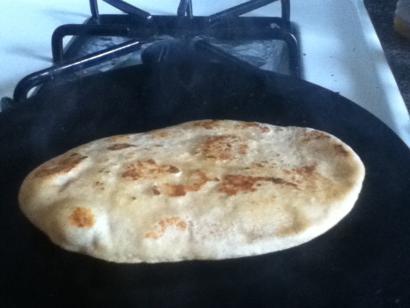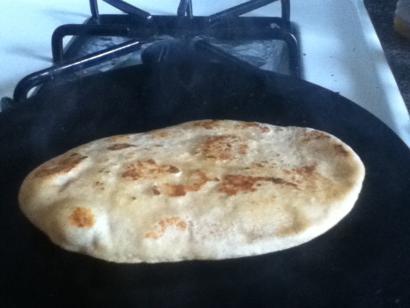 Ingredients
• Wheat flour/All purpose flour- 2 cups (You can add one cup more if you need more Naans, but Yeast, salt, soda, sugar and yogurt will remain the same)
• Active dry yeast- 1 packet=7gms
• Salt- 1 tsp
• Sugar-1tsp
• Baking Soda- a pinch
• Oil- 2-3 tbsp
• Yogurt- 2 ½ tbsp
• Luke warm water- ½ cup.
• Butter- 1 tbsp (optional) to smear over the naan.
Preparation
1. Dissolve active dry yeast and sugar in lukewarm water(not hot) for 10 minutes or till mixture becomes frothy.
2. Add salt and baking soda to the flour mixture and mix well.
3. Add 2 tbsp oil and yogurt to the flour and mix well till crumbly.
4. Add frothy yeast mixture to the dough and knead it well to a soft dough. Knead till the dough is smooth for approx  8-10 minutes. (Add more water if you have added an extra cup of flour earlier)
5. Add 1-2 tsp oil and knead the stickiness away.
6. Keep the dough covered in a greased pan and keep it in a warm place for 3-4 hours or till the dough doubles in volume. (In an oven or wrapped in a towel)
7. Knead the dough again for 2-3 minutes. The volume will reduce in size. (At this stage- you can refrigerate for later use. Cover with a cellophane/plastic bag. It can be kept for a day in the fridge without getting spoilt.)
8. Divide it into 6 balls. Roll it slightly thick, either round or oval in shape.
9. Cook it on a tava/griddle like how a chappati is made, cooking on both sides with little oil/butter. The Naan will rise like a balloon and will become browned and you can cook it little crisp or soft as per your liking.
10. Serve to the Lord with any cooked vegetable and distribute the Prasad.
Serves
6 Naans
By Bhaktin Meena/Madhulila