Choraphali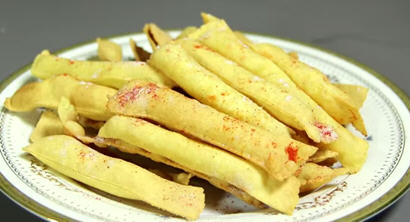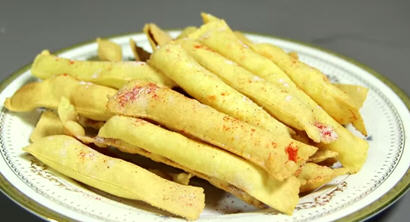 Ingredients
. Gram Flour – 1 Cup (100 grm)
. Urad Dal Flour – 1/2 Cup (50 grm)
. Salt – 1/2 tsp or as per taste
. Oil to knead the dough and fry
. Baking Soda – 1/2 tsp
. Black Salt – 1/2 tsp
. Red Chilly Powder – 1/2 tsp
Preparation
1. To make the chora phali, first knead the dough.
2. Add baking soda in water and mix well. Take 1/4 cup lukewarm water.
3. AddUrad dal flour, 2 tbsp oil and salt to the besan and mix.
4. Keep adding a little water and prepare a hard dough just like the one for a poori.
5. Keep the dough covered for one hour.
6. Keep kneading the dough for another 6-7 min till it gets smooth.
7. Roll the whole dough on the rolling board. It should be approximately 1 inch long and quite thick.
8. Now cut it into pieces of 1/2 inch each. This quantity is sufficient to make 12 balls.
9. Pick up one ball and press it with your palm to make a flat oval. Roll ot out thin.
10. Apply some oil on the rolling board and the rolling pin so that it does not stick.
11. Use a rolling pin to roll out a 4 inch disc. Cut it into pieces of 3/4 to 1/2 inch each.
12. Keep the strips aside to be fried later on and continue doing the same process for rest of the dough.
13. Once the oil is hot, add chora strips to it. We need hot oil to fry thr chora phali.
14. Put as many strips in the wok as can fit at one time.
15. turn the chora phali strip over once its a little brown in color and starts to float.
16. Take out the chora phali in a plate once they are golden brown from both sides.
17. Fry the remaining chora phali in the same way.
18. Sprinkle a little rock salt and red chilly powder from the top.
19. Crispy chora phali is now ready.
20. Once the chora phali is cool, we can staore them in a container and enjoy it for a month.
By Bhaktin Archana