Crispy Sabudana Mixture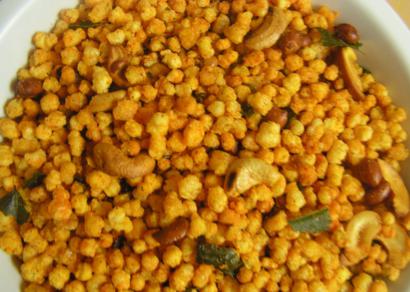 Ingredients
• Sabudana – 1 cup
• Cashews – 1/3 cup
• Peanuts – 1/3 cup
• Oil to fry – 2 cups
• Chili powder – 1 tsp
• Turmeric powder – 1 tsp
• Dhania-Jeera powder – 1 tsp
• Garam-Masala powder – ½ tsp
• Black salt powder – As required
• Powder sugar – ½ tsp (Optional)
• Curry leaves – 2-3 Strands
Preparation
1. Place a skillet with 2 cups of cooking oil on medium flame.
2. On heating, place a porous spatula (with holes in it) and fry peanuts till crispy.
3. In the same oil, fry cashews in the spatula, till light brown.
4. Fry Sabudana in oil till it puffs up.
5. Pour all the fried ingredients in a colander to filter out the extra oil.
6. You can collect the oil in a bowl and use it for frying curry leaves.
7. Transfer the mixture to a skillet, and add chili powder, turmeric powder, salt, black salt powder, garam masala powder, curry leaves and stir well.
Serves
2-3 Persons
By Bhaktin Shanti