Sweet Potato and Ricotta Cheese Empanadas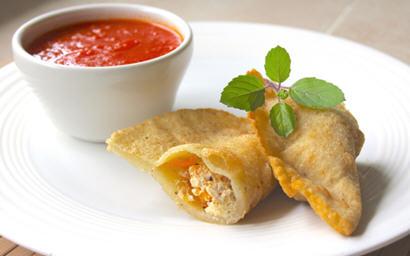 Description
These empanadas are fantastic! Served with a side of warm tomato ghee salsa.
Ingredients
• 1 medium sized sweet potato
• 1 tbsp chopped fresh ginger
• 1 chopped green chili
• 1 cup whole milk ricotta cheese
• 1 tbsp ghee
• 1 tsp cumin seeds
• 1 tsp garam masala
• dash of chili powder
• 1 tsp salt
• 1/4 tsp pepper
• 2 tbsp lemon/lime juice
• 2 cups raw chapati or corn flour dough
Preparation
1. First chop up the sweet potato into small bite sized cubed.
2. Then boil them in water, or whey, until they are tender. About 8-10 minutes.
3. When the potatoes are done, drain the water immediately and then set aside.
4. In a frying pan, heat the ghee and then add the cumin seeds.
5. When the cumin seeds begin to brown, add the chopped ginger and green chile and fry for about a minute.
6. Next add the cooked sweet potato cubes and all remaining spices. Fry for about a minute.
7. Next place the spiced sweet potato mixture into a mixing bowl and add 1 cup of fresh ricotta cheese.
8. Mix it all together and you are done with preparing the filling. Set aside.
9. Now time to prepare the empanada dough. Here I used corn flour dough but you can also use any chapati dough as well.
10. Flatten the dough in a round shape on a plastic sheet.
11. Place a little filling inside.
12. Then use the plastic sheet to fold over one side to form a half circle like this. Then press all the ends before taking off the plastic wrap.
13. Now it is ready for frying. Heat some oil in a frying pot to around 375F/190C.
14. When the oil is heated, place the empanada in the oil and fry until golden brown. It should only take a couple minutes per side.
15. When golden brown, take it out of the oil and place on a paper towel. Continue doing this until you have enough empanadas for serving.
16. Serve with a side of "Warm Tomato Ghee Salsa" and you are ready to Serve!
By Bhaktin Christina