Golden Pastry Chips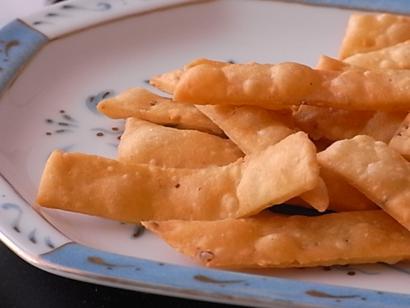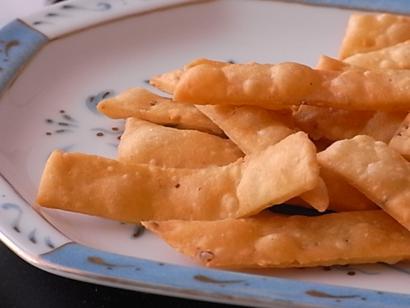 In Bengal, this snack is sold everywhere, from shops and roadside hand-pushed carts to vendors carrying baskets on their heads and wandering from place to place. They are seasoned with one of three spice seeds: caraway, fennel or kalonji.
Preparation time (after assembling ingredients): 30 minutes
Ingredients
• Unbleached white flour – 1 ½ cups (175 g)
• Salt – ½ teaspoon (2 ml)
• Baking soda – 1/8 teaspoon (0.5 ml)
• Either caraway seeds, fennel seeds or kalonji – 1 teaspoon (5 ml)
• Melted unsalted butter or ghee – 2 ½ tablespoon (37 ml)
• Water – 4 ½ -5 ½ tablespoons (67-82 ml)
• Ghee or vegetable oil for deep-frying

Preparation
1. Combine the flour, salt, baking soda and caraway seeds in a large bowl and mix well. Add the melted butter or ghee and rub between your palms to evenly distribute. Pour 4 ½ tablespoons (67 ml) of water over the flour and quickly mix into a rough, shaggy dough. If necessary, add the remaining water, a few drops at a time, until the mass can be kneaded into a stiff dough. Knead on a clean work surface for about 8 minutes or until the dough is firm but pliable. Cover with a damp towel or plastic wrap and allow it to rest for at least ½ hour.
2. Alternatively, fit a food processor with the metal blade, add the flour, salt, baking soda and caraway seeds and pulse twice. Add the melted butter and pulse 8-10 times to mix. With the motor running, pour 4 ½ tablespoons (67 ml) of water through the feed tube and process until the mixture masses together. You may need to add up to 1 tablespoon (15 ml) more water to make a stiff dough. (The mixture should not form a ball in the bowl, but should easily form into a ball with your hands). Gather the ingredients into a ball, cover with a damp towel or plastic wrap, and set aside for at least ½ hour.
3. Roll the dough into a log 14 inches (35 cm) long, cut into 12 pieces, and flatten each piece into a patty. Drape a damp towel over the patties.
4. Pour ghee or oil into a karai or deep-frying pan to a depth of 2 ½ (6.5 cm) inches and place over moderate heat. Roll a patty into a 5 1/2 –inch (14 cm) round on a lightly floured board. Cut with a sharp knife into strips ½ inch (1.5 cm) wide and again cut across into ½ inch (1.5 cm) strips, to yield squares. Brush off the excess flour with a pastry brush. When the temperature of the ghee or oil reaches 335 F (170 C), fry the squares, stirring constantly, until they turn almond brown and are crisp on all sides. Remove with a slotted spoon and drain on paper towels. Shape and fry the remaining patties in this way.
5. Cool to room temperature, then store in a container with a tight-fitting lid for up to 2 weeks.

Serves
8-10

By Yamuna Devi Dasi