Appam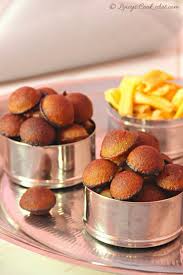 Ingredients 
Serveing – 4 People
1 cup Raw Rice
3/4 cup Jaggery
1 big or 2 Banana small
1/2 tsp Baking Soda
1 tablespoon Coconut Grated – optional
1/2 tsp Cardamom powder
Butter Ghee Clarified / – for frying
optional Rice Flour – for adjusting the batter
Method
1. Soak rice in water for at least 3 hours.
2. Mix jaggery with water and heat it up for a few minutes till the jaggery melts. Strain the syrup to remove impurities and keep it aside.
3. Drain the water from the rice and grind it with the jaggery syrup to a fine paste (you can add little water if needed).
4. Now add the banana to the rice and jaggery paste and pulse it once or twice till the banana is mixed well with the paste and pour the mixture in a bowl.
5. Check for the consistency. It should be slightly thicker than the dosa batter. If it is too watery just add 1 tbsp rice flour to it, to get the correct consistency.
6. Add the cardamom powder and the grated coconut to the batter and mix well.
7. Set the batter aside for at least 2 hours for fermentation.
8. While frying, add the baking soda to the batter and mix well.
9. Then heat paniyaram pan, add a tsp of ghee / oil in each hole. Pour a spoon full of the batter in each hole.When cooked on one side, carefully flip to other side, add oil / ghee if required.
10. Cook until both sides are dark brown.You can even deep fry them fully by adding ghee/oil to 3/4th of each hole. Ready to serve.
By Sorna Lakshmi