Boondi ke laddu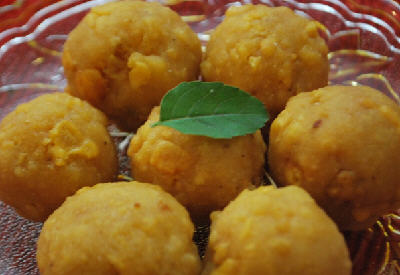 Ingredients
FOR BOONDI 
•Besan (chickpea flour)- 1 cup (200 grams)
•Water- 1/2 cup (100 ml)
•Orange food color- a pinch (optional)
•Oil for deep frying
FOR SUGAR SYRUP
•Sugar- 1 cup (200 grams)
•Water- 1/2 cup (100 ml)
•Cardamom powder (elaichi)-1/4 teaspoon
Preparation:  
1. First prepare the sugar syrup.
2. Boil 1/2 cup water in a pan & add 1 cup sugar to it.
3. Add cardamom powder to it & boil it on medium high heat.
4. Sugar syrup has to be of one string consistency.
5. This will take around 7 minutes.
6. In the meantime, prepare the batter for the boondi.
7. Take besan (chickpea flour) in a pan & add 1/4 cup water to it.
8. Beat them really well to break all the lumps.
9. Now add the rest 1/4 cup water to this batter & mix well.
10. If you are adding orange food color, then add it to the batter at this stage.
11. The batter should be of a pouring consistency just like cake batter.
12. Sugar syrup must be ready by now.
13. Turn off the flame & keep it aside.
14. We will add hot boondis to this sugar syrup.
15. Heat oil in a pan.
16. Use a perforated spoon to make boondis.
17. Hold the spoon 2 inches above the hot oil.
18. Add some batter on this spoon & tap the spoon gently.
19. Boondis will fall in this hot oil.
20. Deep fry them till they turn golden in color & still soft.
21. Don't fry them too much as they will turn crispy otherwise.
22. Take them out from the hot oil on a paper towel & transfer them to the sugar syrup when still hot as they will absorb the sugar syrup easily.
23. Make boondis using all the batter & transfer to the sugar syrup.
24. When still warm, grease your hands with a little ghee & make round laddus using these boondis.
25. Don't let it cool down, as the sugar crystallizes & then it will be difficult to make the laddus.
26. You can grind them coarsely if you want smaller boondis.
27. Allow them to cool down.
28. Store them in an air tight container.
29. Boondi laddu is ready to serve.
By Bhaktin Meena