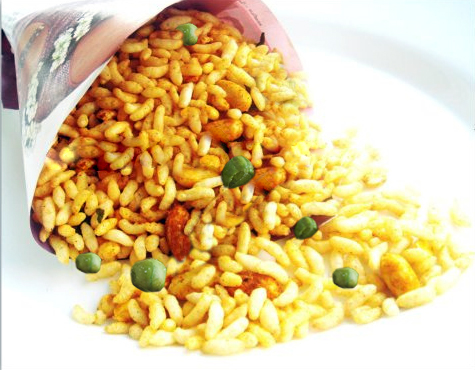 In Indian bazaars, it is a familiar sight to see men puffing rice. A sand-filled karai is placed over glowing coals, and when the coarse sand is hot, rice is added. Using a long paddle, the sand is patiently stirred, until one by one, the rice grains pop into long pointed puffs. With nothing more than straining it through a fine sieve, hot puffed rice, called moori, is ready to be sold in recycled newspaper bags. Like everything in India, you have to search for quality and then haggle for it –and even if you pay dearly, much of the puffed rice tastes a little dusty. Homemade puffed rice is always more delectable. Par-boiled rice is stir-fried in a dry pan until very hot, and immediately dropped into hot oil where it expands into puffs. This is the basis of numerous munchy snacks, much like this one.
This dish can be made with my puffed grain –from moori sold at Indian grocery stores, to supermarket Quaker puffed rice or a health food store puffed brown rice. Serve for breakfast or a light snack.
Preparation time and cooking time (after assembling ingredients): 30 minutes
Ingredients
• Ghee or a mixture of Sunflower oil and unsalted butter – ¼ cup (60 ml)
• Split raw peanuts – 1/3 cup (50 g)
• Cashew pieces – 1/3 cup (45 g)
• Minced fresh ginger root – ½ table spoon (7 ml)
• Fresh green chilies, seeded and minced – 1-2
• turmeric – ½ teaspoon (2 ml)
• Ground coriander – 1 teaspoon (5 ml)
• Ground cumin – 1 teaspoon (5 ml)
• Yellow asafetida powder (hing) – ¼ teaspoon (1 ml)
• Steamed fresh peas or frozen baby peas, defrosted – ¾ cup (180 ml)
• Puffed rice – 2 ½ cups (45 g)
• Fine popcorn salt – ½ teaspoon (2 ml)
• Date or maple sugar (optional)  – 1 teaspoon (5 ml)
Note: This amount applies only to yellow Cobra brand. Reduce any other asafetida by three-fourths
Preaparation
1. Heat the ghee or oil-butter mixture in a heavy 5-quart/liter pan over moderate heat for about 1 minute. Add the peanuts and fry until they turn golden brown. Remove with a slotted spoon and drain on paper towels. Fry the cashew nuts until golden brown, then remove and set aside with the peanuts.
2. Drop in the minced ginger, chilies, turmeric, coriander, cumin and asafetida, one after another in quick succession, and fry for no more than 3-4 seconds. Immediately add the peas, raise the heat to moderately high, and cook for 2 minutes.
3. Add the puffed rice and, stirring constantly, cook until it is slightly crisp and well coated with powdered spices. Add the nuts, salt and sugar. Mix well. Serve hot and crisp.
Serves
4 to 6
By Yamuna Devi Dasi