Sweet potatoes delight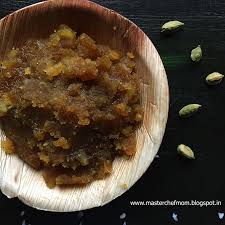 Ingredients
Sweet potatoes -1/2 kg
Jaggery -250 gm
Coconut -1/2 (grated)
Cardamom powder -1teaspoon
Ghee -2teaspoon
Cashew – if needed
Salt – a pinch
Water
Method
Boil the sweet potatoes and peel off the skin and mash it without lumps.
Place the pan and fry cashews in ghee till golden brown.
Transfer it to the serving bowl.
Add water in the pan ( around 200 ml) add jaggery stir it ,till jaggery melts and one string consistency.Remove dirt from it.
Add the mashed sweet potatoes and mix them until all the jaggery become mix with potatoes.in this stage add grated coconut, cardamom powder,roasted cashew,pinch of salt,balance ghee.
Now sweet potatoes delight is ready for nivedhan.
By Sorna Lakshmi